When I troll food trade shows, I look for fresh ideas and inspiration my clients and readers can apply to their business. Here are six products that caught my eye at the Restaurants Canada show in Toronto.
Keep it Simple
The simplest product – with intense flavour. Surette Condiments makes heavenly reductions from apples and Montmorency cherries with only two ingredients and no sugar added. These versatile reductions impart a sophisticated depth of flavour, inviting culinary creativity. Applications include dressings, sauces, marinades, desserts and cocktails. SuretteCondiments.com
Not a bun, but looks like a bun and tastes like a bun
There is a whole new consumer group adopting lifestyle "diets" like keto and paleo that limit permitted foods. Unbun caters to those consumers with soft, moist envelopes ready to stuff with unforbidden fillings. Impactful packaging graphics are clean and simple, clearly communicating the key message. Whether these restrictive trends will endure is yet to be seen. KetoBuns.com
Reusable Packaging
We're hearing more and more about reducing the environmental impact of packaging. This has culminated in a movement to make packaging reusable, lead by TerraCycle®.
These precious Maldon Sea Salt Flakes fit right in. They are attractively presented in a reusable tin with a plethora of uses when empty. All you need is imagination. MaldonSalt.co.uk
Treasures from the Sea
Looking for inspiration? Explore the riches and versatility of seaweed as it continues to grow in popularity in North America. Azuma Gourmet Seaweed Salad is ready-to-eat and vegan-friendly. Fresh tasting and crunchy, it adds an Asian twist and vibrant green colour to any plate. AzumaFoods.ca 
Beer Pairings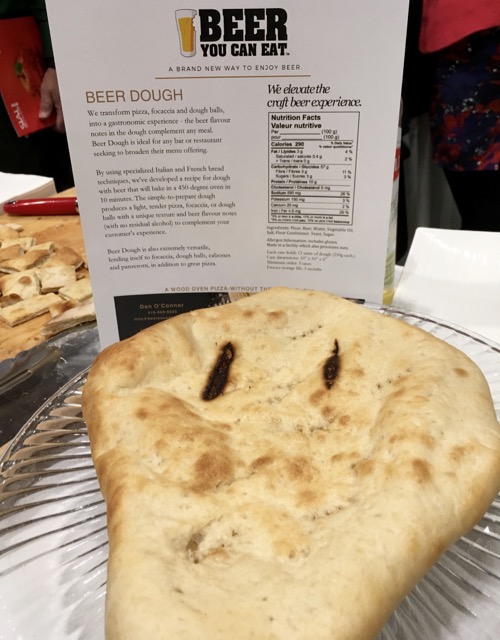 You've likely heard of beer marinade, and batter for fish, chicken and onion rings. How much further can beer stretch? Pizza and beer make a perfect marriage and Beer You Can Eat makes it easy. It's foolproof, ready-to-bake pizza and flatbread dough that bakes up light and crispy. The not-so-secret ingredient is premium beer, right in the dough, imparting a distinctive flavour. BeerYouCanEat.com
Pseudo Butter
For the growing herd of dairy avoiders, FabaButter is a plant-based spread that "cooks, spreads and tastes like dairy butter". The name is derived from the aquafaba ingredient – liquid waste from soaking or cooking legumes – used as a vegan egg substitute. But it's pretty far down the ingredient list, with coconut oil being the first ingredient. Unfortunately, for real butter lovers, FabaButter doesn't deliver on true butter flavour and texture. ForaFoods.com
---
As a CPG food consultant, Birgit Blain helps food brands prepare their products for market – from strategy to finished packaging. Her experience includes 17 years with Loblaw Brands managing a President's Choice® portfolio. Contact her at Birgit@BBandAssoc.com or learn more at www.BBandAssoc.com
© Birgit Blain