Diving deep into the CHFA Connect virtual trade show, these innovative foods grabbed my attention.
Unfortunately, there's no opportunity for food sampling when browsing virtual shows. Products were selected based on ingredients, nutrition data, claims and product attributes and benefits. However, appealing to the target consumer's tastes is paramount because taste and price are primary drivers of purchase decisions.
Tea Fresh from the Freezer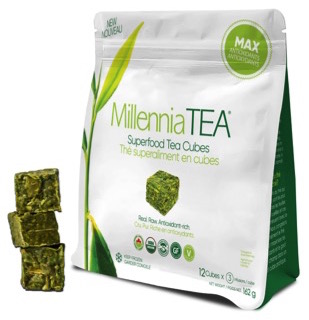 Millennia Tea introduces a new category, fresh-frozen tea. Unlike traditional tea, the leaves are not dried – just picked, washed and flash frozen. The benefits, they claim, are more antioxidants, preserved nutrients and no bitter taste. This innovation also transforms tea leaves into an ingredient that easily blends into smoothies, soups and sauces. Millennia Tea is available in loose leaf, chopped or convenient pre-portioned cubes. The challenge for this brand will be to influence retailers to make space in the frozen set, educate consumers and drive shoppers to the freezer for tea. www.millenniatea.com
Wrap it up, in coconut!
Where would we be without the humble coconut and its seemingly endless uses? Now there are nüco Organic Coconut Wraps, made with just three basic ingredients: organic coconut meat, coconut water and virgin coconut oil. They're shelf-stable and suitable for vegan, keto and paleo diets. Available in original, turmeric, cinnamon and moringa flavours. Nücoconut, a company with a mission, makes a positive social impact by donating a portion of profits to support Filipino coconut farming communities. www.nucoconut.com/coconut-wraps/
Meaty Fungi
I love the meaty bite and umami flavour of marinated portobello mushrooms (as we call them in the Great White North), slow-cooked on the BBQ. Mushrooms are a natural fit for chewy jerky, which has stampeded into the growing plant-based phenomenon. And they're a source of protein, fibre, vitamins and minerals. The mushroom farmers at Giorgio Foods Inc. have morphed simple fungi into Savory Wild Portabella Mushroom Jerky, an on-trend snack. Available in bold flavours that are taste-bud-tempting for vegans and meat lovers alike: Sweet Balsamic & Golden Fig; Roasted Garlic & Black Pepper; Sesame, Ginger & Korean Chili; Smokehouse Bacon; and Hot & Spicy Cajun Style. www.savorywild.com
Grain-Free Cereal
I almost passed this one by thinking it's just another cereal but nüco Coconut Crunch Cereal is unique. These grain-free coconut flakes are made without added cane sugar and only three ingredients: coconut water, coconut meat and palm starch. The good news: one 30 g serving has 8 g fibre and only 5 g sugar. The not-so-good news: with coconut as the main ingredient it's high in saturated fat. The scientific community has yet to reach consensus on whether saturated fat from coconut poses a health risk. www.nucoconut.com
The Reinvention of Peanut Butter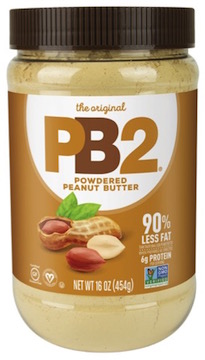 Peanut butter was invented by the Incas and Aztecs and commercialized more than a century ago. Now PB2 Foods has re-invented it. They've squeezed out the fat, well most of it, added sugar (1 g per 13 g serving) and salt and transformed it into a powder. PB2 Powdered Peanut Butter is a mess-free, no fuss way to add protein and PB flavour to smoothies, baked goods, bowls, sauces and international cuisine. www.pb2foods.com
Roll 'n' Wrap
Inspired by Japanese cuisine, GemWraps™ dehydrated fruit and vegetable wraps provide one serving of fruit/vegetables per wrap. An alternative to grain-based tortillas, they're ideal for gluten-free, vegan, keto and paleo lifestyles. The handy square shape rolls easily and seals with a little water. These shelf-stable wraps are available in four varieties: Kale Apple, Carrot, Tomato, and Mango Chipotle. www.newgemfoods.com
A Honey of a Chocolate
After 80 years, chocolatiers at Donini say they have "re-invented chocolate". Their creation, CocoaBee Chocolate, is sweetened with honey and has the simplest ingredient deck with only three ingredients: cocoa powder, cocoa butter and honey.
Glory Bee!
Pollen collected by honey bees is stored in comb cells with nectar and glandular secretions, sealed with honey and naturally fermented. A food source for bees, Ambrosia 100% Raw Bee Bread is rich in protein and other nutrients. However, the many health benefits cited for humans are not yet scientifically proven. We tend to assume that natural food sources are safe for human consumption but that isn't always the case. Bee bread may not be suitable for people with bee pollen allergies, pregnant women and children. And it should be tested to ensure it is free of chemical residues, like neonicotinoids, that bees may inadvertently pick up when foraging.
---
As a CPG food consultant, Birgit Blain helps clients think strategically to build a sustainable brand. Her experience includes 17 years with Loblaw Brands and President's Choice®. Contact her at Birgit@BBandAssoc.com or learn more at www.BBandAssoc.com
© 2020 Birgit Blain
This article appeared in FOOD IN CANADA.