Digging into Toronto's CHFA NOW (Natural-Organic-Wellness) trade show, I waded through a sea of bars, bevies, salty snacks, spreads, sauces and kombucha, and unearthed nine unique products that stood out.
dD Manba Haitian Spicy Peanut Butter
Inspired by a humanitarian mission to Haiti, the unique spicy spread, made in Quebec, is based on a traditional Haitian recipe. Not just for PB&J sandwiches, Manba invites creativity to add a spicy kick to savoury and sweet applications like desserts, sauces, dressings and marinades. Manba.ca
Springcreek Quail Farms Pickled Quail Eggs
These bite-size conversation starters are on tap for game day party platters, charcuterie boards, picnics or simple savoury snacking. It's a zero carb snack that provides a source of protein, iron, calcium and potassium. Ready to eat in three zesty, palate-rousing flavours: Salt 'n Vinegar; Garlic & Jalapeno; and Scorching Hot. Springcreekquail.ca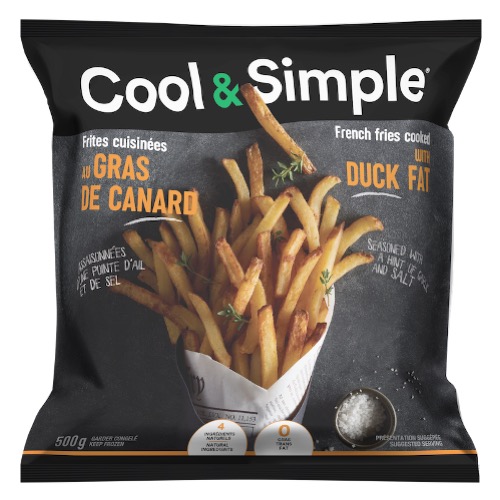 Cool & Simple Duck Fat French Fries
Gourmet French fries cooked in duck fat take me back to warm summer nights in Paris dining on bistro patios. These addictive fries are simply potatoes, duck fat, garlic and salt. They really are authentic, made in France, frozen and oven-ready, delivering a French experience in 20 minutes. Cool-simple.com
Mozaiko Roasted Argan Oil
Mozaiko is on a mission to support the economic development of African communities by opening international markets for their high quality products. One such product is Roasted Argan Oil, Morocco's own liquid gold. This gourmet finishing oil imparts a nutty richness and depth of flavour to an array of dishes. Kernels from seven argan trees are needed to produce just 1 litre of this precious culinary ingredient. Mozaiko.ca
Beck's Hot Chocolate Bone Broth Powder
Chocolate goes with everything, even bone broth. Get the benefits of bone broth (14 g protein per serving) married with comforting hot chocolate, in a convenient single serve pouch. Also available, Beck's Instant Coffee Bone Broth Powder. As is the case with most start-ups, Beck's Broth needs to achieve economies of scale for more attractive pricing. Becksbroth.com
Ecoideas Heart of Palm Spaghetti Noodles and Rice-shaped Pasta
This low carb, gluten-free pasta alternative, although not nutritionally equivalent to wheat pasta, is a source of fibre, potassium and calcium. It's packed in water and shelf stable. Simply drain, rinse and serve or boil two minutes and add your favourite accoutrements. The heart of palm is sustainably produced by Julia's Farms in the Ecuadorian rainforest. Ecoideas.ca
Egglife Egg White Wraps
This grain-free alternative to flour tortillas is packed with 5 g protein per serving, with zero carbs and fat. Available in original and five seasoned flavours: Garden Salsa, Everything Bagel, Southwest Style, Italian Style and Sweet Cinnamon. EggLifeFoods.com
Seed to Surf Plant-based Seafood
Enoki Mushroom Snow Crab and Smoked Celeriac White Fish, with kombu seaweed, have a simple ingredient deck. These innovative products are reminiscent of seafood but I would classify them as condiments, perfect as a spread, dip, sandwich filling, appetizer and for charcuterie boards. Marketing them as seafood alternatives will undoubtedly garner more attention. The packaging is eye-catching with whimsical graphics, however, I question the need for the canned product to be in a box, as excess packaging is contrary to the sustainability messaging of the brand. Seedtosurf.ca
iLola Tea Discs
The latest innovation in tea formats is bagless. Single serve discs, made with organic loose leaf teas enriched with probiotics, are pre-measured, for just the right portion per cup. Since there's no bag, no microplastics are released into the beverage and environment. Just pop a disc into an infuser and steep. Serious tea imbibers would be delighted to receive an ultra-premium iLola tea gift set. iLolaTea.com
Zero Sugar Trend
And finally, I think it's worth mentioning that "no sugar" is a popular claim, but most products are sweetened with non-nutritive sweeteners like sucralose, maltitol, erythritol and Stevia, which early research shows may interfere with gut bacteria.
---
As a CPG food consultant, Birgit Blain helps clients think strategically to build a sustainable brand. Her experience includes 17 years with Loblaw Brands and President's Choice®. Contact her at Birgit@BBandAssoc.com or learn more at www.BBandAssoc.com
© 2023 Birgit Blain
This article appeared in Food in Canada.
Related article Unmasking Innovation at CHFA NOW