Savvy brand owners check out trade shows like Grocery Innovations Canada (GIC) to unwrap a host of business opportunities. Here are some insights from this year's show to stimulate your creative juices.
Solving the Breakfast Conundrum
Oasis® Morning Smoothie rises to the breakfast challenge – packing fruit, Greek yogurt, cereal and eggs into a convenient beverage to grab on the way out the door. Who would have thought that was possible? This hearty beverage provides 14 vitamins and minerals and 5g protein per serving. www.oasis.ca/en/
Take-away: Can you solve a problem that people are struggling with?
Not a drive-thru in sight?
With +42° Self Heats, folks on the go can enjoy hot coffee on demand in the remotest locations – even cappuccino, chai latte and hot chocolate! The magic is in the patented can that heats up through a chemical reaction from calcium lime. Coffee's ready in just 3 minutes. www.the42degreescompany.com/en/
Take-away: Even if it's been done before, the timing may not have been right. It may be worth another look!
You've goat to try it!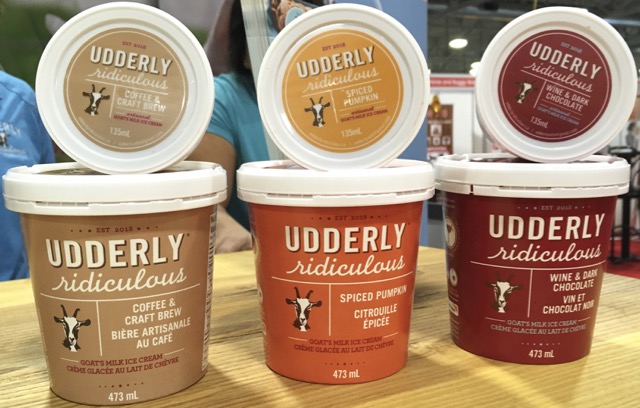 The Ontario goat farmers at Udderly Ridiculous have something to bleat about. Their rich and Udderly Ridiculous Goat's Milk Ice Cream is "gut friendly" pleasure on a spoon that's easily digestible for Canadians with lactose sensitivity. Naturally crafted, sophisticated flavour combinations indulge the senses: Coffee-infused Porter Beer; VQA Merlot & Dark Chocolate; Vanilla Bean Lavender. www.udderlyridiculous.ca
Take-away: How can you add value to a commodity to grow your sales?
The Value of Waste
In the spirit of the nose-to-tail movement, Station Cold Brew crafts Cascara Iced Tea from coffee bean husks that are normally discarded. This refreshing, sparkling beverage is naturally caffeinated and lightly sweetened with organic cane sugar. www.stationcoldbrew.com
Take-away: Can you find value in the waste your business creates?
Get it while you can
One whoosh of Gay Lea Toasted Marshmallow Whipped Cream in a can and you'll want more. But it's gone, for now! Gay Lea launches innovative flavours as seasonal in/outs.
Take-away: The benefits of seasonal in/outs are three-fold: market testing, driving trial and creating buzz for your brand. Is it an opportunity for your business?
Citrus a-peel
Yuzu, a citrus fruit grown in Asia, is a common ingredient in Japanese and Korean cuisine. The peel and juice impart a tart and aromatic citrus flavour of grapefruit and mandarin orange. Yuzu juice is matured for ten months and used to enhance the flavour of beverages, frozen desserts, marinades, sauces and seasonings for salads, chicken and seafood. Yuzuya Honten in Japan grows yuzu on their own farm, adding the peel to sea salt, tea and marmalade. www.e-yuzuya.jp/en/
Take-away: Take a worldly view to discover new ingredients.
Convenience Creates Excess
Consumers are demanding convenience and single serve sizes for snacking. Black Diamond cheese, nut and dried fruit Combos give them healthier options that fit the bill.
Take-away: What are we leaving behind? There's a downside to convenience; it creates more packaging waste. If we're truly committed to environmental sustainability, it's time for consumers and brands to take responsibility. It's a matter of priorities.
---
As a packaged foods advisor and coach, Birgit Blain helps clients think strategically to build a sustainable brand. Her experience includes 17 years with Loblaw Brands and President's Choice®. Contact her at Birgit@BBandAssoc.com or learn more at www.BBandAssoc.com
© Birgit Blain